Page 36 - 2018_PublicSafety_eCatalog
P. 36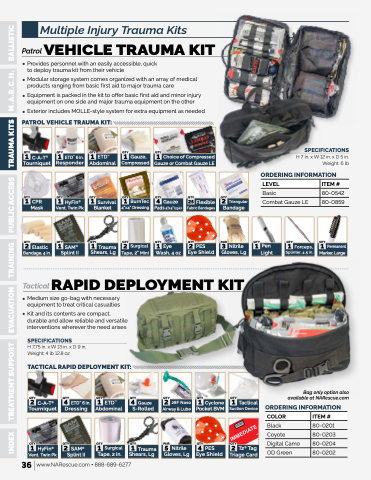 Multiple Injury Trauma Kits
Patrol VEHICLE TRAUMA KIT • Provides personnel with an easily accessible, quick
to deploy trauma kit from their vehicle
• Modular storage system comes organized with an array of medical products ranging from basic first aid to major trauma care
•Equipment is packed in the kit to offer basic first aid and minor injury equipment on one side and major trauma equipment on the other
•Exterior includes MOLLE-style system for extra equipment as needed PATROL VEHICLE TRAUMA KIT:
QTY
1 Choice of Compressed Gauze or Combat Gauze LE
QTY
25 Flexible Fabric Bandages
2 PES Eye Shield
SPECIFICATIONS
H 7 in. x W 12 in. x D 5 in. Weight: 6 lb
ORDERING INFORMATION
QTY
QTY
QTY
QTY
1 C-A-T® Tourniquet
1 CPR Mask
2 Elastic Bandage, 4 in.
1 ETDTM 6 in. Responder
1 HyFin® Vent. Twin Pk
1 SAM® Splint II
1 ETDTM Abdominal
1 Survival Blanket
1 Trauma Shears, Lg
1 Gauze, Compressed
1 BurnTec 4"x4" Dressing
2 Surgical Tape, 2" Mini
LEVEL
Basic
Combat Gauze LE
ITEM #
80-0542 80-0859
1 Permanent Marker, Large
QTY
QTY
QTY
QTY
QTY
QTY
QTY
QTY
QTY
QTY
4 Gauze Pads 4"x4"(2pk)
1 Eye Wash, 4 oz
2 Triangular Bandage
3 Nitrile Gloves, Lg
QTY
QTY
QTY
Tactical RAPID DEPLOYMENT KIT
• Medium size go-bag with necessary
equipment to treat critical casualties
• Kit and its contents are compact, durable and allow reliable and versatile interventions wherever the need arises
SPECIFICATIONS
H 7.75 in. x W 13 in. x D 9 in. Weight: 4 lb 12.8 oz
TACTICAL RAPID DEPLOYMENT KIT:
QTY
QTY
QTY
QTY
QTY
QTY
QTY
Bag only option also available at NARescue.com
ORDERING INFORMATION
2 C-A-T® Tourniquet
1 HyFin® Vent. Twin Pk
4 ETDTM 6 in. Dressing
2 SAM® Splint II
1 ETDTM Abdominal
1 Surgical Tape, 2 in.
4 Gauze S-Rolled
1 Trauma Shears, Lg
2 28F Naso Airway & Lube
5 Nitrile Gloves, Lg
1 Cyclone Pocket BVM
4 PES Eye Shield
1 Tactical Suction Device
2 T2® Tag Triage Card
COLOR
Black Coyote Digital Camo OD Green
ITEM #
80-0201 80-0203 80-0204 80-0202
VOID1234
QTY
QTY
QTY
QTY
PAIR
QTY
QTY
INDEX TREATMENT SUPPORT EVACUATION TRAINING PUBLIC ACCESS TRAUMA KITS M.A.R.C.H. BALLISTIC
36 | www.NARescue.com • 888-689-6277
QTY
QTY
PAIR
1 Pen Light
1 Forceps, Splinter, 4.5 in.