North American Rescue:


Who We Are
Our Corporate Overview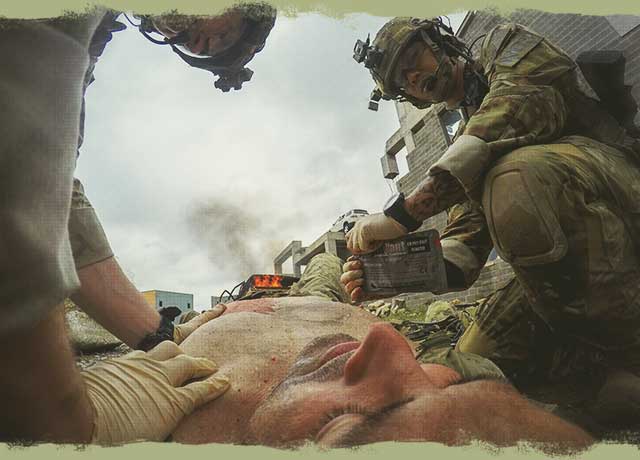 Our Corporate Overview
North American Rescue (NAR) is dedicated to decreasing preventable death by providing the most effective and highest quality mission critical medical products to our military, federal agencies, civilian law enforcement, EMS and pre-hospital life savers. We design, develop and test these products based on the military's Tactical Combat Casualty Care (TCCC) guidelines, Rescue Human Factors® engineering, evidence based medicine and an in-depth understanding of the requirements from you – our customers.
Ensuring that we remain at the forefront of casualty care as a premier provider of life-saving products and supplies, NAR has assembled a seasoned staff of former Special Operations medics, experienced Law Enforcement / SWAT / EMS healthcare providers, credentialed product development and quality professionals, former senior military medical officers and expert consultants.
MILITARY
LAW
EMS
FIRE
ADVENTURE
COMMUNITY
Tactical Combat Casualty Care (TCCC)
Tactical Combat Casualty Care (TCCC) guidelines focus on the 3 leading causes of preventable combat death – extremity hemorrhage, tension pneumothorax and airway obstruction. NAR's mission critical medical products such as the C-A-T® (Combat Application Tourniquet), Combat Gauze Hemostatic Bandage, HyFin® Chest Seal and ARS® Needle Decompression Kit, to name a few, directly address these causes. Together, these products have potentially saved more lives on the modern battlefield than could have been saved at any other time in history. In addition to the 3 leading causes of preventable death, hypothermia has a significantly negative impact on a trauma patient's survival rate. Consequently, NAR developed the Hypothermia Prevention and Management Kit™ (HPMK®), with other new hypothermia products currently in the pipeline.
Commitment to Our Customers
Commitment to our customers is NAR's top priority. Whether you are on the battlefield, in an urban landscape or in austere environments, hostile conditions pose unique challenges for managing traumatic injury. At NAR, we recognize that in a post 9/11 world requirements are ever-changing for those dedicated combat lifesavers, tactical healthcare providers and law enforcement / EMS professionals who stand in harm's way to save the life of another. You are our customers and empowering you to save lives is the very heart of our business and our culture.
Our Commitment to Quality
Our Commitment to Quality is demonstrated by NAR being an ISO 13485 Certified medical device company. This certification means that we adhere to the highest standards of quality and to rigorous regulatory compliance, ensuring that our products are of the highest quality and safe to use. In addition, the NAR team possesses a unique insight into the unconventional challenges of tactical medicine and is committed to providing breakthrough products that span the full spectrum of tactical casualty care, from the point of wounding to the doors of the trauma center. Is your medical device provider committed to maintaining Medical Device standards through ISO 13485? We are.
Commitment to Our Community
Commitment to Our Community is an essential part of the NAR culture and focuses on our charitable giving program, Operation Giveback. NAR has donated over $17 Million to primarily support Wounded Warriors and their families. With a focus on combat medics and their families, we appreciate your sacrifice and through programs like the Ranger Medic Handbook, strive to make our contributions count to the community we serve.
As "Partners In Empowerment" in our community, our relationship with the South Carolina Vocational Rehabilitation Department (SCVRD) provides jobs and training for their clients, who are faced with a wide variety of disabilities. Giving back to the community provides us with focus to fulfill our Corporate social responsibilities.
OUR MISSION
To provide tailored, mission-enabling survivability solutions to counter the rapidly evolving threats of the 21st century.
OUR VISION
To combine the knowledge of seasoned combat medics, leading technology providers and researchers, and asymmetrical warfare experts to be the world leader in tactical casualty care solutions that are laboratory, field and combat tested.