Products with a Mission:

What We Do
Our Product Development Philosophy
Product Development remains a hallmark of North American Rescue. We bring a unique understanding of global technology development and implementation with a team of decorated, seasoned former Special Operations medics, experienced Law Enforcement / SWAT / EMS healthcare providers, credentialed product development and quality professionals, former senior military medical officers and experts with a proven track record in product development and deployment. The two major components of NAR's product development efforts are Developmental Testing Directorate (DTD) and the Voice of our Customers.
Developmental Testing Directorate (DTD)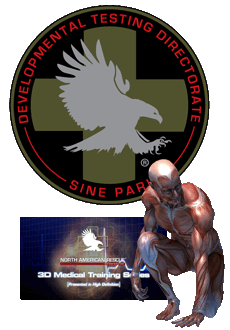 The Developmental Testing Directorate (DTD) works hand-in-hand with our developers as we test and validate our entire product line, from advanced prototyping of a new concept through the upgrade engineering of a seasoned product. We rigorously evaluate and verify the capabilities of each product within its own operational environment, including the external fielding of equipment to key targeted user groups. The recently expanded indoor testing center now includes office space, a team room and lab in addition to our existing 20,000-square-foot facility. This state-of-the-art prototyping area offers simulated, extreme high-stress conditions commonly experienced in operational environments and also serves as an educational/training resource for tactical units, test teams and organizations worldwide.
To further support this robust product development agenda, NAR continues to aggressively enhance our growing Online Reference Library featuring our flagship 3D Medical Training Series in high definition. These invaluable audio visual aids explain the purpose and vision of specific gear, provide New Equipment Training (NET) and give guidelines for each product's intended use. Additional support materials, such as white papers, product information sheets and instructions for use are also available for download from the Video Download page or the "video tab" on the individual product pages. Our commitment to these educational resources ensures that you are informed, equipped and optimized for saving lives.
The Voice of our Customers
Each product that North American Rescue produces has been designed to meet specific customer requirements originating from the point of injury and continuing throughout the entire continuum of care. To ensure that we are on target with the development of new product concepts and the re-engineering of our current product line, our sales and product development team gather feedback from voices in the medical community throughout the world. Whether you are an infantryman, Law Enforcement Operator, Combat Medic, Special Operations Forces Personnel, Paramedic or Physician, your voice counts and is welcome at the table.
Based on the input received from you, our customer, our team identifies adjustments that are needed to our products and implements these changes to better serve you. NAR is always in development of new solutions so we welcome those ideas, suggestions and enhancements that will enable us to continue to provide the very best in life saving medical equipment.
To have your voice heard, contact us at info@NARescue.com or via our Facebook page.