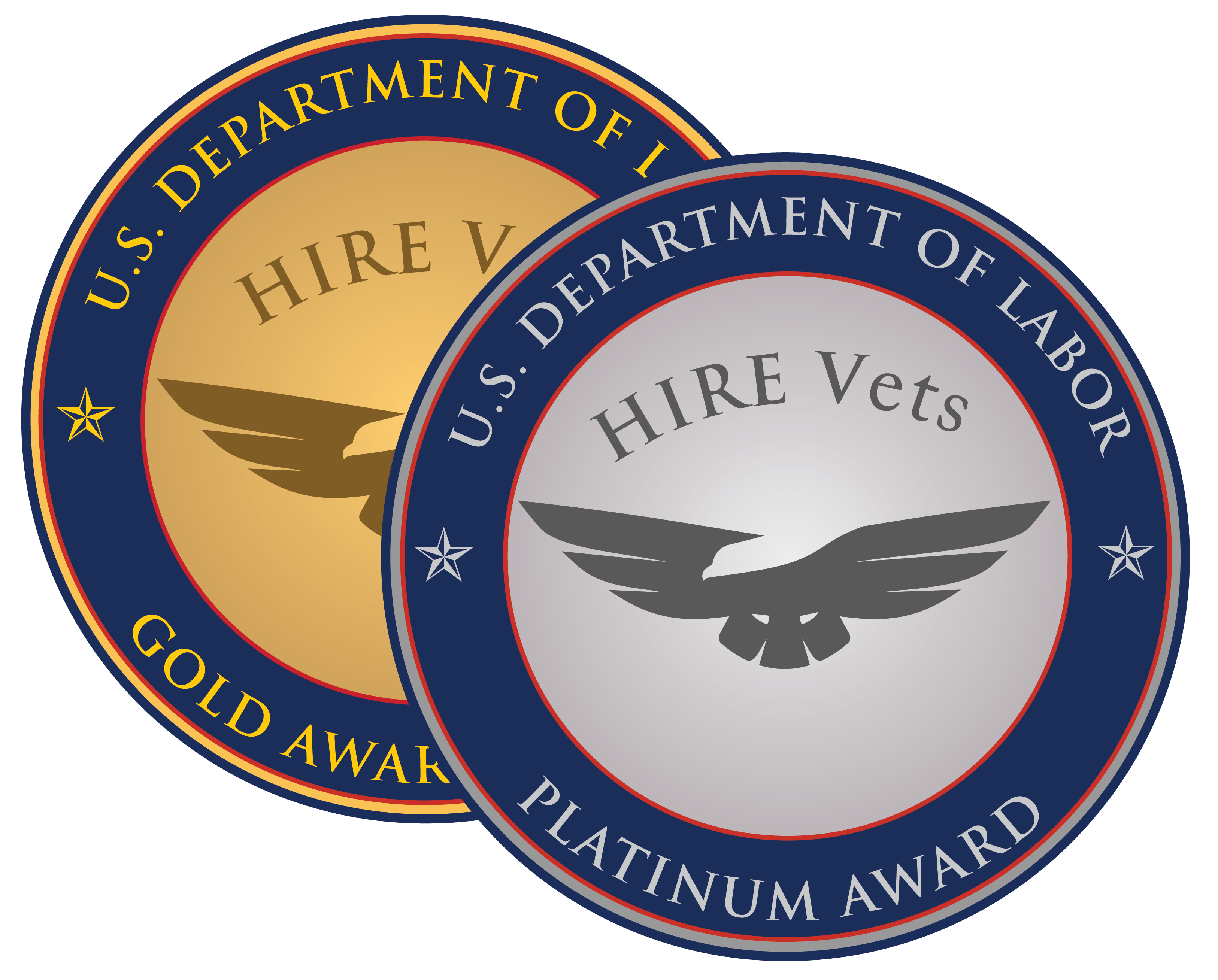 HIRE Vets 2023 Award Recipient - Platinum
North American Rescue® was recognized by the U.S. Department of Labor as a HIRE Vets Medallion Award recipient for our commitment to recruiting, employing, and retaining veterans. We're proud to support veteran and their career goals.
About the HIRE Vets Medallion Program:
The HIRE Vets Medallion Award is earned by businesses that demonstrate unparalleled commitment to attracting, hiring and retaining veterans. The 2023 HIRE Vets Medallion Award application period will open to employers on Jan. 31, 2024. For more information about the program and the application process, visit HIREVets.gov.
There are different awards for large employers (500-plus employees), medium employers (51-499 employees), and small employers (50 or fewer employees). Additionally, there are two award tiers: platinum and gold.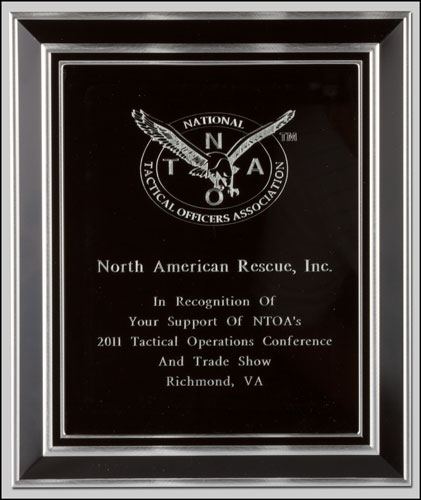 NTOA™ Recognition
The National Tactical Officers Association (NTOA) recently presented North American Rescue with a plaque in recognition of their support of the 2011 NTOA Tactical Operations Conference and Trade show. This year's conference and tradeshow, in Richmond, Virginia, started Sunday, August 18, 2011 and ran through Friday, August 23, 2011.
The mission of the National Tactical Officers Association is to enhance the performance and professional status of law enforcement personnel by providing a credible and proven training resource as well as a forum for the development of tactics and information exchange. Website: www.ntoa.org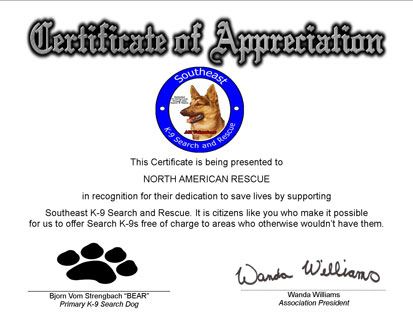 K-9 Search and Rescue Certificate
North American Rescue was recently awarded with a Certificate of Appreciation in recognition of a K-9 Tactical Field Kit donation made to Southeast K-9 Search and Rescue. The K-9 Kit contains products that are necessary to address the major traumatic injuries common to K-9's operating in the military and law enforcement environment and is designed to enable handlers to provide lifesaving treatment to injured canines at the point of injury.
Southeast K-9 Search and Rescue volunteers skilled personnel and K-9 teams free of charge to Disaster and Emergency Situations throughout the Southeastern United States. The 100% volunteer search and rescue teams hold active certifications from agencies such as Federal Emergency Management Agency (FEMA), National Fire Academy (NFA), Tennessee Association of Rescue Squads (TARS), and the American Heart Association.
Maggie Award for "The War on Trauma: Lessons Learned from a Decade of Conflict."
The Journal of Emergency Medical Services (JEMS), which is published by Elsevier Public Safety, an Elsevier business unit located in San Diego, Calif., received top recognition from the Western Publications Association (WPA) on Friday, April 24, 2009 at the WPA's Annual Awards Banquet in Los Angeles. The WPA's Maggie Awards honor the best in consumer and trade print and electronic publishing in the western United States. Each year the WPA receives thousands of entries from popular trade and consumer magazines, such as PC World, emmy, Elearning!, Oracle, San Francisco and Sunset. JEMS , the premier educational resource in the emergency medical services industry, received a Maggie for best editorial supplement/trade for "The War on Trauma: Lessons Learned from a Decade of Conflict. " The supplement, sponsored by North American Rescue, Inc. and was published in the October 2008 issue of JEMS.
Export Achievement Award
North American Rescue was awarded an Export Achievement Certificate Sunday, April 19 by South Carolina Secretary of Commerce Joe Taylor prior to the official opening of the 2009 Trade Winds Europe Conference held in Warsaw, Poland. Through Gold Key Service provided by the US Department of Commerce's Commercial Services, NAR was able to solidify its presence in the Polish market. The Export Achievement Certificate awarded to the company recognized North American Rescue's successful exporting endeavors, exceptional support of its Polish distributor, and efforts to expand sales into other European markets.
The Defense Logistics Agency Outstanding Readiness Support Award
North American Rescue, LLC is recognized for their outstanding efforts in providing quality products and services to America's War-Fighters for their daily operations. North American Rescue consistently ships ahead of schedule and works closely with Defense Logistics Agency personnel to make sure customers are receiving their products, including Medical, Tactical and Hospital supplies, in a timely manner. North American Rescue supplies essential Medical products to the military including the Combat Application Tourniquet, Emergency Trauma Bandage, Vacuum Compressed Gauze, and the Talon Evacuation Litter. Demand for North American Rescue items has consistently increased and the company has provided overall outstanding performance and readiness support to the military War-Fighter. Nominated by the Defense Supply Center in Philadelphia, North American Rescue was privileged to be one of only 23 companies world-wide to receive the DLA Outstanding Readiness Support Award. The award was presented at a special dinner held in Washington D.C. on January 28th, 2009.