Critical Environment Emergency Kit - CREEK
Waterproof and dustproof platform
Compact first aid kit – ideal for adventures and extended travel
First aid for minor to severe injuries
Description
Tending to an injury during an outing can be tricky. There are many potentially hazardous and injurious elements to keep in mind. Further stressing your situation is the possibility of not being able to reach proper medical attention. The Critical Environment Emergency Kit (CREEK) and CREEK-Enhanced can help you deal with any potential injury or sickness you encounter while in the great outdoors.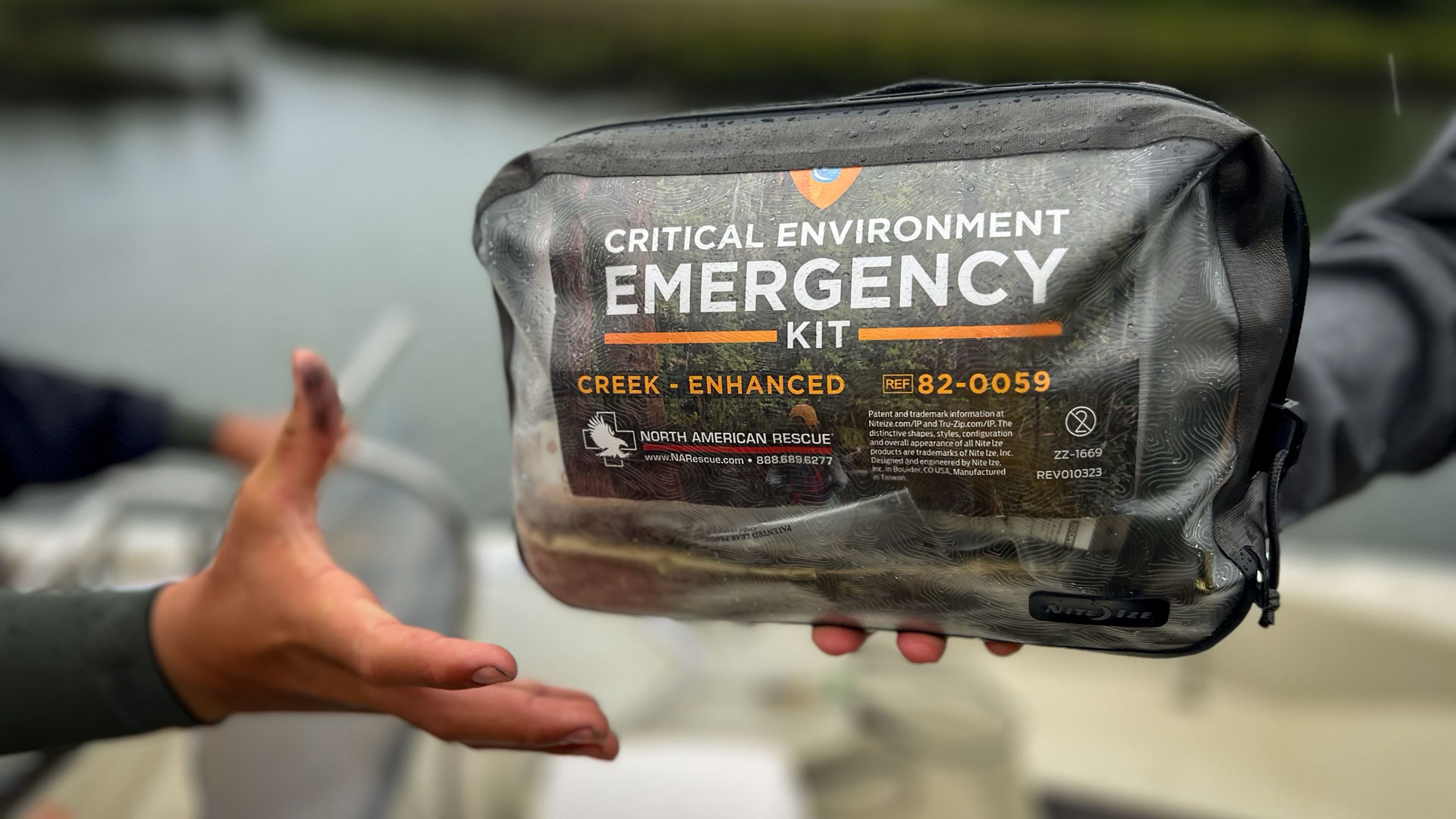 Keeping your first-aid kit dry, organized, and in reach on any outdoor adventure can be challenging. In order to provide our customers with are sealable, water and dustproof platform we have partnered with Nite-Ize, an industry leader in providing solutions to the adventurist, to do just that. Their Runoff Packing Cube utilizes durable TPU construction with RF welded seams and tested dustproof and waterproof to IP67 standards (withstands submersion one meter deep up to 30 minutes).
Ideal for:

Individual Sports
Backpacking
Hiking
Hunting
Camping
Offroading
Adventure travel
Surfing
Motocross / ATV
Mountain Biking
Skiing
Snowboarding
No matter where your adventure may take you, the CREEK has you covered.
---
Click For Bag Only Option
Specs
Waterproof and dustproof platform
Compact first aid kit – ideal for adventures and extended travel
First aid for minor to severe injuries
Kit Contents:
1 x C-A-T® Tourniquet, Orange
1 X NAR® Wound Packing Gauze
1 x 4 in. Flat Responder ETD Emergency Trauma Dressing
1 x QuikClot® Bleeding Control Dressing
1 x Hypothermia Wrap, 60 in. x 96 in.
1 x Petrolatum Gauze, 3 in. x 18 in.
1 x Silver Bandage
1 x Clear Dressing, 4 in. x 4.75 in.
2 x Non-adherent Dressing, 2 in. x 3 in.
1 x BurnTec Dressing, 4 in. x 4 in.
1 x Moleskin Bandage (6 pk.)
10 x Bandage, 1 in. x 3 in.
1 x Wound Closure Strip
1 x Gecko Grip Flat Tape
1 x Benzoin Tincture, Swabstick
1 x Irrigation Syringe
2 x Bear Claw Gloves Tan, Lg.
Dimensions:
Packaged - H 4.96 in. x W 6.88 in. x D 3.14 in.
Weight: 1.3 lbs