Polar Skin C2E Ice Pack Bundle
Facilitates conductive, convective, and evaporative cooling
Four specially-sized Comfort Gel Packs providing protracted direct cooling of high blood flow (large artery) regions of the body (underarms and groin)
Maintenance free; impervious to environmental and biological contamination
Allows for full access to the body while cooling
Adheres to current National Athletic Trainers' Association and U.S. Army protocols for heat illness treatment
Description
The Polar Skin™ C2E Ice Pack Bundle consists of four (4) specially-sized C.O.R.E™ Packs encased in Polar Skin™ Mini-Mesh sleeves saturated with ArcticAqua™. Unique to C2E C.O.R.E™ Packs, Polar Skin Mini-Mesh sleeves form an air-permeable layer that allows for the movement of air and water vapor necessary for convective and evaporative cooling. C2E C.O.R.E™ Packs are intended for use in the high blood flow regions of the groin and underarms.
Features of Polar Skin Technology
Polar Skin Mini-Mesh™
(n.) A unique smart textile treated with a hydrofunctional polymer. Fiber construction allows for liquid absorptive capacity 350% greater than basis weight.
ArcticAqua™
(n.) A proprietary solution that prevents rigidity well below 0°F while providing the requisite moisture to support evaporative, convective, and conductive cooling.
C.O.R.E.™
The improved four-layer flat design that includes the existing outer blanket layer plus two cooling pads and one inner pad that provides maximum cooling retention. The phased layer approach allows for maximum evaporation, convective and conductive heat removal from a hyperthermic patient. The C.O.R.E.™ technology significantly improves the functionality and longevity of the Comprehensive Cooling System compared to the standard gel pack.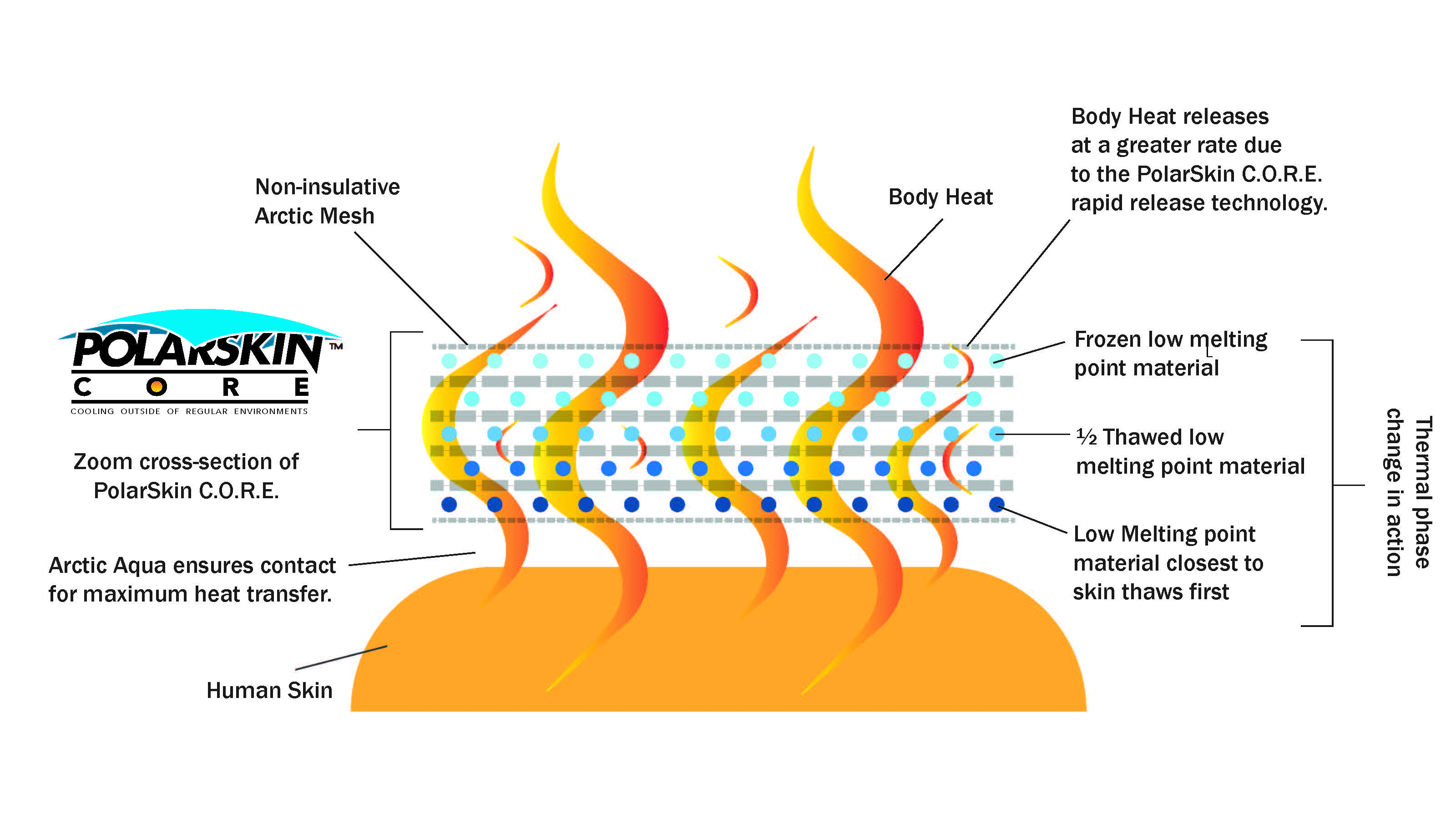 C.O.R.E.™
Vapor and liquid permeable substrate
Cooling fluids are impregnated within the substrate
Non-woven conductive barrier layer
Promotes evaporation, convection, and conduction cooling methods for maximum thermal exchange
Distributed heat exchange
Staged phase change materials act as a thermal super capacitor
Gel Packs
Plastic bag filled and sealed with a polymer gel
Barrier bags are impermeable to vapor and liquid penetration
Plastic barrier is non-conductive
Utilizes conduction for thermal Exchange
Localized heat exchange
No materials phase change
Specs
Facilitates conductive, convective, and evaporative cooling
Four specially-sized Comfort Gel Packs providing protracted direct cooling of high blood flow (large artery) regions of the body (underarms and groin)
Maintenance free; impervious to environmental and biological contamination
Allows for full access to the body while cooling
Adheres to current National Athletic Trainers' Association and U.S. Army protocols for heat illness treatment



Dimensions:

Individual Gel Pack: L 15 in. x W 11 in. x D 1.5 in.
Weight: 4.60 lbs