Hypothermia Prevention & Management Kit - Insulated (HPMK-I)
Building on the success of the CoTCCC recommended HPMK®, the new patent-pending design includes NEW insulation layer added to the front and back of entire patient
Sustains up to 10 hours of continuous dry heat with oxygen-activated, self-heating 4 Cell Ready Heat® Blanket (no external power supply required)
Constructed of 5-ply composite fabric with protected non-conductive reflective layer and NEW insulating layer for improved thermal retention
Maintains insulation properties even when wet.
Very small final packaged size for such a high level of insulation capacity
Tapered shape from top to bottom to maximize isothermal capabilities
Built-in hood
Continuous 1.5 in. hook and loop closures for rapid 360° access to the casualty with minimal exposure to the elements
Reinforced and weight tested to support 250+ lb
Vacuum-packaged in a durable pouch for a protective, low-cube footprint
Storage pouch features NAR's Red Tip Technology® with tabs that allow easy access and rapid deployment
U.S. Patent 7,766,950 B2, U.S. Patent: Pending
Description
Building on the success of the CoTCCC recommended HPMK®, the new patent-pending HPMK-I™ (Insulated) with reinforced Heat Reflective Shell - Insulated™ is strong, flexible, lightweight & impervious to wind & rain, now fully insulated to meet new CoTCCC guidelines.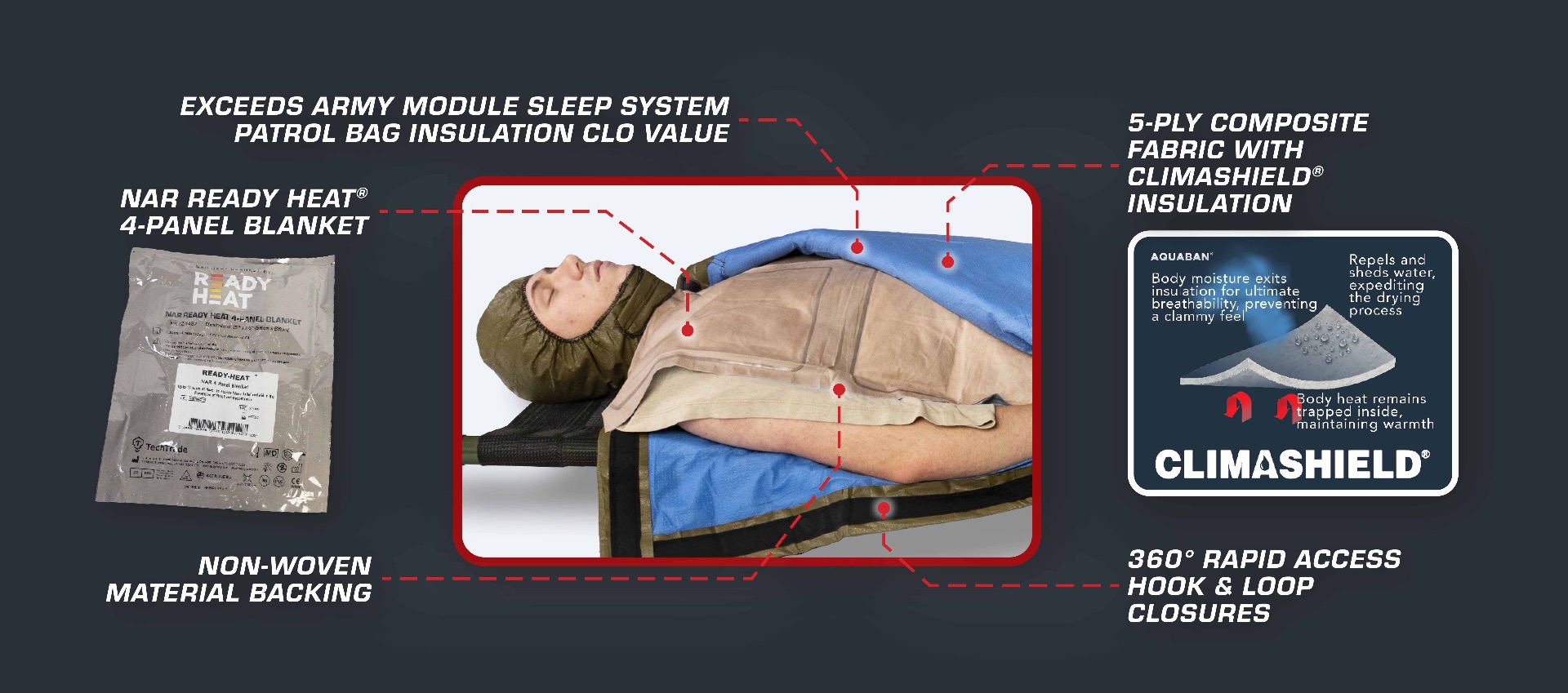 The HRS-I™, the kit's ruggedized outer shell, is constructed of a 5-ply, composite fabric with a protected non-conductive reflective layer and NEW insulation layer that provides additional excellent thermal retention. Rapid 360° access to the casualty with minimal exposure to the elements is achieved through the use of 1.5 in. continuous hook and loop closures located along the perimeter of the covering.
The HRS-I™ also features an INSULATED top-to-bottom tapered shape to maximize isothermal capabilities. The heat-generating source of the HPMK-I™ is a self-heating, oxygen- activated 4-Cell Ready Heat blanket designed to sustain up to 10 hours of continuous dry heat (no external power supply required). This low cube kit is vacuum-packaged in a rugged, pliable pouch featuring NAR's Red Tip Technology® with tabs that allow easy access and rapid deployment.
The new top & bottom insulation layers exceed the insulation value of the Army Module Sleep System Patrol Bag. This insulation is highly compressible but also has excellent rebound after opening. The added insulation is also hydrophobic and will not retain fluids or additional liquid weight.
Specs
Kit Contents:
1 x Heat Reflective Shell-Insulated (HRS-I™) with built-in hood
1 x Ready Heat 4 Cell Blanket
1 x Plastic Vacuum Bag
Dimensions:
Packaged - H 8 in. x W 11 in. x D 6 in.
Weight: 4 lbs 14 oz
Heat Reflective Shell-Insulated™ (HRS-I™) (Open): L 78 in. x W 43 in.